The cat left me an unwanted Christmas present in the porch today - a small mammal. On taking a closer look my feelings were a mixture of excitement and regret as I realised that she had killed a water shrew (Neomys fodiens).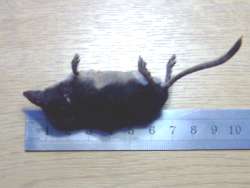 The water shrew is not a particularly common animal; indeed I have never seen one before although the cat has caught common shrews (
Sorex araneus
) in the garden. I don't know where she caught this one, it could have been from my garden or from that of a neighbour; in any case it almost certainly
was
from a garden because I don't think that her wanderings take her beyond them. Water shrews often hunt for invertebrate prey in streams or ponds, but they are by no means confined to them. Sometimes they are found in habitats without any running or standing water.
For a long period our cat did not catch any birds or mammals but just recently she has taken both (including a recent field vole [
Microtus agrestis
]). She wears a collar with a bell, but I think that I shall add a second bell which the
RSPB
has found to be quite effective.