It was another beautiful weekend in the garden complete with a hatful of new arrivals.
Spring seemed to return to the garden mid-way through last week, but the temperatures have remained quite low - especially at night. The cold seems to have kept the new growth of many plants in check. The herbs that I planted in a new raised bed do not seem to have grown at all. If they don't get a move on, there is a danger that the slugs will get the better of some of them! The sunny weather has, at least, encouraged more insects to venture out. I saw a large number of droneflies (
Eristalis spp.
) this weekend. On a number of occasions I saw pairs of them seemingly grappling in mid-air - I assume they were either male/female pairs engaged in some sort of courtship behaviour or sparring males.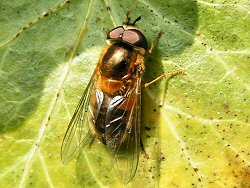 I also saw and photographed this beautiful little hoverfly which I had assumed (because of the markings on the abdomen) belonged to the genus
Eristalis
. However when I looked closely at the photograph and read the description of
Eristalis
given in my
field guide to hoverflies
, I realised that it could not have been. All
Eristalis
species have a characteristic loop in one of the main wings veins which is clearly absent from the hoverfly in my picture. The hoverfly did not match any of the pictures of the other common British species illustrated in this guide - clearly I need a more comprehensive field guide.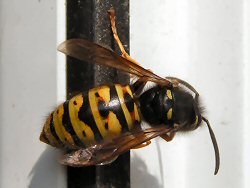 This was an excellent weekend for social wasps. I saw a few common wasp (
Vespula vulgaris
) queens, but also, on a couple of occasions, I saw queen red wasps (
Vespula rufa
), quickly recognised because of their distinctive abdomen markings. I was really pleased to see these wasps because last year I only ever seemed to see dead red wasps. I wonder if I will continue to see them in the garden throughout the summer.
The blackbirds (
Turdus merula
) nesting in the leylandii hedge, are now feeding young and seem to be doing well, despite a close call with our cat, Clarry, when she attempted to reach the nest but apparently got stuck half way up the hedge. A female blackbird from another nest seems to have learnt that she can get an easy meal by standing on a large flat stone in the pond (which I put in there for birds to bathe on) and taking the tadpoles which like to congregate in the warm shallows over the stone. She does it an awful lot - I hope she leaves a few for us to enjoy!
The blue tits (
Parus caerulea
) in the nestbox on the birch (
Betula sp.
) are now feeding young. Just about every other nestbox around the house - including those I put up for great tits (
Parus major
) and house sparrows (
Passer domesticus
) - is also being investigated by blue tits.
Another exciting bit of news is that I found a leech (species unknown) in the pond when I was clearing out some of the vegetation - the first I've seen there. Yesterday I saw the first swift (
Apus apus
) of the year over the garden.