It's the time of year when the culinary connoisseur and the naturalist in all of us can share a common object - fungi.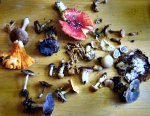 Today I spent several hours searching a local mixed woodland with my good friend
Mike Beswick
and our families. The objects of our quest were the fantastic fruiting bodies we call fungi. For most of the year fungi lurk unseen; their thread like hyphae spreading through leaf litter, rotting wood and, sometimes, sound wood. As an agent of decomposition fungi play an absolutely essential role the ecology of our planet. A very few deadly species give fungi a bad press, but if you are with someone who knows what they are looking at (like Mike), you start imagining how every toadstool or mushroom you find would look in your frying pan! (But beware, if you aren't certain of its identity - leave well alone.)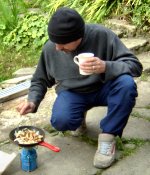 After a while we managed to find some beautiful specimens - really hitting the jackpot when we entered an area of mixed broadleaves with oak and birch. Some of the colours you see in fungi can hardly be found anywhere else in nature in this country - the reds, yellows and purples can be particularly intense.
Mike particularly fancied cooking up some honey fungus he found. I can imagine the raised eyebrows of some gardeners at the mention of honey fungus! But if you are unlucky enough to have this in your garden, you might at least enjoy eating some of it. And after tasting the omelette Mike cooked up for us, I can heartily recommend it: you'll never want to eat button mushrooms from the supermarket again!