In spring I sowed a new border with a mix of cornfield annuals and now they are brightening what is normally a fairly dull time (florally speaking) in my garden.
I purchased 100g of a cornfield annual seed mix from the
National Wildflower Centre
(via the internet) back in spring. The mix comprised corn poppy (
Papaver rhoeas
), corn marigold (
Chrysanthemum segetum
), cornflower (
Centaurea cyanus
) and corn-cockle (
Agrostemma githago
). I sowed this in a new border which is bounded at the back by a new hedge (see diary for
8th February
and feature on
planting a new hedge
). I planned it as a kind of 'nurse crop' that would complement the hedge without interfering with it. In the event the plants, especially the corn marigold, have grown more vigorously than I expected, probably to the detriment of the young shrubs.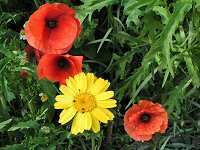 Despite the problem with the hedge, the flowers have been a real delight. The corn marigolds have been flowering for a couple of weeks now and the poppies and corn flowers a little less.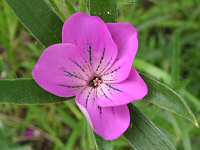 Just today the first corn-cockle opened and there are many more waiting to add their beautiful colour to the scene.
Colourful cornfield annuals like these are what many people have in mind when they think of a wildflower 'meadow', but if fact these plants do not grow in permanent meadowland at all: being annuals, they all require that the soil is regularly disturbed in order for the new generation to germinate and grow. In the past, all of these species were very common 'weeds' of arable farmland. Now, thanks to herbicides, they are just hanging on at the field margins where they occur at all. In fact the corn-cockle is now considered to be extinct as a truly wild plant in Britain.