Hoverflies are such fun to look at in the garden: there are enough species to keep you interested, but not so many that they are impossible to identify.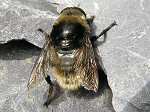 A couple of weeks ago I wrote about the hoverflies that I have seen in my garden (see diary for
15th June
). A similar variety of species is to be found in any typical British garden. Around 250 species have been recorded in this country; but of these, only about 40 are common and thse are all illustrated in the Naturalist's Handbook
Hoverflies
by Francis Gilbert. It is with the help of this excellent little book I can identify most of the hoverflies I see in my garden.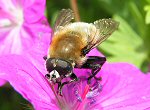 This week I was delighted to see a few more: not only new species but also different 'forms' of species which I have already seen. The pictures illustrate two different forms of the bulb fly (
Merodon equestris
). This hoverfly is a bumblebee mimic and the different colour forms of the fly effectively mimic different bees. The form show at the top of the page, with the dark thorax and whitish 'tail' is a mimic of white and buff-tailed bumblebees (
Bombus terrestris
) and (
Bombus lucorum
) while the one shown here is a good mimic of the common carder bee (
Bombus pascuorum
).