This weekend I did my bit for the RSPB's Big Garden Birdwatch and enjoyed a pleasant hour just watching for a change.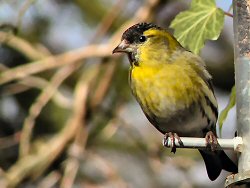 Blackbird (3)
Blue tit (2)
Chaffinch (3)
Dunnock (1)
Great tit (1)
Greenfinch (2)
House Sparrow (3)
Magpie (2)
Robin (1)
Rook (1)
Starling (1)
Goldcrest (1)
Black-headed gull (1)
Siskin (3)
It always amazes me how many gardeners spend so much time worrying or fussing about their gardens that they seldom take time to just enjoy them. I sometimes fall into that trap myself as I was reminded this afternoon when I spent time watching the birds in my garden for the RSPB's
Big Garden Birdwatch
. For an hour I did nothing but watch the birds in my garden from the kitchen window - noting down the maximum numbers, of each species, seen together at any one time. Although the birds did not put on a great show (they rarely do on cue), I was nevertheless entertained for an hour by 14 species. I suppose that goldcrest (
Regulus regulus
) and siskin (
Carduelis spinus
) were the most unusual visitors, though I did suspect that these would show since they have both been around the garden for a few weeks.
It can be frustrating when birds that you see in the garden 'all the time' fail to turn up for the survey hour! This year robin (
Erithacus rubecula
) only just made the cut-off and goldfinches (
Carduelis carduelis
) didn't show at all. For garden birdwatchers who wish to contribute more comprehensive counts of their garden birds, the
BTO's
Garden Birdwatch (see our feature article
Counting garden birds
) may be of interest.