Over the past week I've tried placing a couple of small mammal traps (Longworth traps) around the garden. I've been rewarded with some close up encounters with my garden woodmice (Apodemus sylvaticus).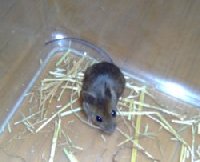 Longworth traps are aluminium boxes which include a nesting compartment and an entrance tunnel complete with trap door. The mammal is enticed into the entrance tunnel with some food (woodmice go for grain); when they reach the far end they step on a release bar which shuts a trap door at the entrance to the tunnel. In the 'nest box', the animals are provided for with dry straw bedding and ample food.
The woodmouse is one of our most abundant small mammals, and surely one of the cutest! With is large ears and eyes and its long tail, it is also very distinctive. The only other small mammal with which it can be easily confused is the similar, but larger, yellow-necked mouse (
Apodemus flavicollis
). Woodmice are present in many gardens but, being mostly nocturnal, you may only notice them if your cat brings you one as a present. However I already knew they were present in my garden because I have been lucky enough to see them in daylight hours on a number of occasions. Once, last winter, I watched for several minutes as a woodmouse repeatedly raided my ground-level bird table for seeds and grain. As it approached the table it would leap onto it in a single bound; a jump of around four inches - nothing for a woodmouse which can easily jump over a foot off the ground.