Although common in most gardens, small mammals are not always easily seen, so it's a red letter day for me when they show themselves.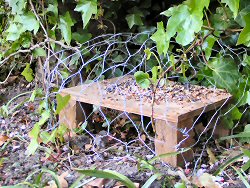 Just over a week ago I constructed this small mammal feeding platform from scraps of wood. It's simply a piece of plywood with a blocks of wood at the corners acting as legs to raise it off the damp ground. I placed this close to cover in a likely looking spot for small mammals and covered the whole thing with a dome of chicken wire to protect visiting mammals and birds from cats. The whole construction is within easy viewing distance of the kitchen window.
I put a mixture of soft fruit, mushrooms and bird seed on the table and within a week, the food was being taken. I've seen birds like Dunnock (
Prunella modularis
) on the table, but I was fairly sure that mammals were visiting too since some whole hazelnuts (too big for the small birds) were also taken.
At 8.30 this morning, in broad daylight, I saw a bank vole (
Clethrionomys glareolus
) on the table and, as I raised my binoculars to look at it, I also saw a wood mouse (
Apodemus sylvaticus
) eyeing the table up! Before long, both animals were feeding on the table. Sometimes they fed together peacefully and sometimes each would chase the other off. These were probably the best views I've ever had of these mammals acting naturally and the first time I've every seen them interact.
The table took much less than an hour to make and with such quick results, it has to be one of the most cost-effective projects I've ever undertaken for wildlife in the garden. It will certainly be one of the first things I look at when I get up in the morning from now on!