A few hours spent doing some manual work in the garden yielded a couple of unexpected new animals: a flatworm and a newt.
I noticed the flatworm as it moved over the surface of a broken brick in one of the
habitat baskets
I made for the pond. It was only a couple of centimetres long - it hardly looked more than a thin black smudge on the brick. The thing that really betrayed its identity was the way it moved. Not a trace of undulation in the body or any other movement gave away its means of locomotion; it seemed to be literally gliding over the surface of the brick. This type of movement is very characteristic of a flatworm. Not a very glamorous animal I know, but I get a genuine thrill every time I find more evidence of increasing biodiversity in the garden as a consequence of the techniques I'm using.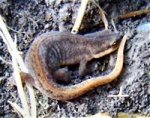 For real 'glamour' though, you can hardly do better than a new vertebrate in the garden, so I was absolutely delighted when I uncovered this newt while moving some large blocks of stone. This is either a common newt (
Triturus vulgaris
), which is also called the smooth newt, or a palmate newt (
Triturus helveticus
), but I don't have enough experience of them to be able to be more precise. The two species are easier to tell apart in the breeding season (particularly the males).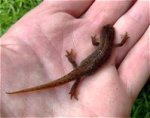 I cannot even say whether or not this was a mature specimen. Palmate newts prefer more acidic pools that the common newt, but we are close enough to moorland here not to discount the possibility on that basis.
I had been considering introducing newts to my garden from the gardens of some friends this year, but it didn't happen. Now I am much more inclined to wait a few years to see whether my pond will be naturally colonised by them. Because I had disturbed the site where this one was holed up (completely removing the stone blocks), I relocated it to a more suitable part of the garden -
the space under the deck
adjacent to the pond. When I built the deck I filled the space underneath with small logs, branches, stones and rubble in the hope of providing a sanctuary for a number of animals, and newts were at the forefront of my mind.