You never know what you are going to find when you go into the garden; today was one of those days when something quite extraordinary happened.
I had just entered the garden and was standing by the back door when a goldcrest (
Regulus regulus
) uttered its high-pitched contact call. This was no surprise since I regularly see them in and around a conifer which stands just over the fence in my neighbour's garden. What happened next though was remarkable: out of the corner of my eye I saw a small bird fly about 20 feet over my head and straight into an upstairs bedroom window.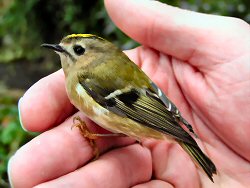 I think that it managed to check most of its momentum at the last moment because it only made a very light impact with the window. However, it was enough to send the bird fluttering towards the ground: it bounced off the pitched roof over the kitchen and fortunately I was in the right place to catch it before it landed. It was a goldcrest.
My first reaction was one of sadness thinking that the stunned bird might well die, but after keeping it warm in the hand and lightly breathing onto it, the goldcrest revived and eventually it flew away as right as rain. In the meantime I had the perfect opportunity to see this beautiful and tiny bird up close. This is the smallest bird in Britain and indeed Europe. In the hand the yellow crown edged with black is a very striking feature. Gently blowing the yellow crown feathers aside revealed a central orange streak, identifying this bird as a male. The orange streak is displayed by the bird when it gets excited.
Some people advocate sticking shapes onto glass window panes to alert birds to their presence. The window that this bird hit was a relatively small bedroom window (the curtains were drawn), but perhaps the bird saw the reflection of the sky and was fooled into thinking that its way was open. Window strikes are a fact of life around a house - especially when young birds fledge in the spring. If you find a stunned bird, try to keep it warm (perhaps placing it in a shoebox in a quiet spot). In most cases the bird will either recover completely, in which case you can release it, or simply die. Fortunately this tale had a happy ending.