There's nothing like a week or two away from the garden in summer to make you really notice how things are constantly changing.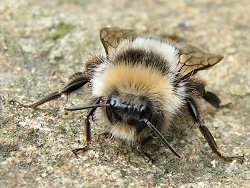 After spending just over a week away from home in beautiful County Clare, Ireland, I noticed the usual changes to the garden; the longer grass, the blooming buddleia (
Buddleja davidii
) and the overgrown greater spearwort (
Ranunculus lingua
) in the pond. A little time spent in the garden tuning into the wildlife revealed subtler changes to the garden's fauna.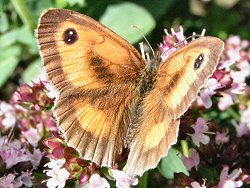 I had seen a number of male early bumblebee (
Bombus pratorum
) before going on holiday, but now I was noticing much larger numbers of males, including those of other species. Males of several species, including four of the six common garden species, have yellow or brown facial hairs compared to the black facial hairs of the females. The one pictured here is most probably either a white-tailed bumblebee (
Bombus lucorum
) or a red-tailed bumblebee (
Bombus lapidarius
), but does not appear to be typical of either: white-tailed bumblebees usually have a brighter yellow than this one, and red-tailed bumblebees normally have a red-tail (this one was very pale).
Another noticeable change was that there were many more butterflies in the garden than before I left for Ireland - though not what I would regard as plentiful: I have still not seen more than three red-admirals (
Vanessa atalanta
) or small tortoiseshells (
Aglais urticae
) together yet. One surprise this year though has been the number of gatekeepers (
Pyronia tithonus britaniae
) I have seen in the garden, though it is not what I would normally regard as a garden butterfly. The one pictured here on compact marjoram (
Origanum vulgare
compactum) is a male - you can tell from the dark 'sex brand' bisecting the forewing.