The Wildlife Trust for Lancashire, Manchester and North Merseyside has officially opened a new wildlife garden at its HQ.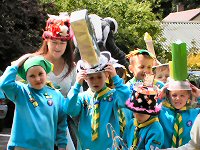 Staff of the Trust at its HQ, the Barn, Cuerden Park, Bamber Bridge, produced a small wildlife garden next to the car park as a place for staff and visitors to sit outside and enjoy wildlife. A small amount of funding was obtained for materials and plants and there were generous donations of a recycled plastic picnic bench, trees and plants. The hard work was provided by Trust staff, volunteers and a local Beaver pack working towards their environmental badges.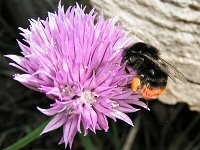 To inaugurate the garden, celebrate World Environment Day and link the whole project with the Wildlife Trust/RHS 'Wild about Gardens' campaign, the Trust held a 'Mad Hatter's Tea Party' on Sunday 5 June. Many of the Trust's staff and the Beavers responsible for building the garden were present on a beautifully sunny afternoon.
A good area (about the size of a 'medium' sized plot) has been given over to the garden. A circular seating area (housing the picnic bench) is the focal point of the design and a stylish curved path leads to this, nicely sectioning the garden into several different compartments. There are areas of naturalistic meadow and more formal elements with cultivated, wildlife-friendly, garden plants. Despite being a young garden, it has impact and, as it matures, it will potentially be a vibrant space for people to meet and relax amongst the wildlife. As well as being a place where staff can escape the confines of the office when they have only a few minutes to spare, it could also be used to great advantage as a resource to educate visitors to the Trust and the surrounding park about the benefits and techniques of gardening for wildlife.