The pond in my garden continues to be the focus of much of my gardening activity and, perhaps because I spend so much time there, it's also the focus of much of the wildlife action I see.
The hot summer weather (which today saw the highest temperatures
ever
recorded in Britain with parts of England getting over the 100 degree farrenheight mark) causes me a problem with my pond because the evaporation exposes quite an expanse of bare pond liner. Apart from looking unsightly, sunlight can damage the liner, so I wanted to do something about it.
The solution I came up with was to line the edges of the pond with some brushwood screening from the garden centre. The screening is designed for application to fences or other similar structures, but I cut narrow lengths (30cm wide) and placed them against the top of the pond sides, resting them on the 30cm deep planting shelf which goes around the entire pond. Not only is the brushwood much nicer to look at than the PVC pond liner, but it makes a valuable extra habitat in the pond for invertebrates etc. In addition, it also provides a good rough surface that should enable any animal to climb out of the pond, even in the steepest parts. I'm delighted with the result.
Whilst admiring the results of my handiwork, I noticed a couple of large flies struggling on the surface of the pond. I recognised them fairly quickly as bibionids (this group of flies were an important source of food for the moorland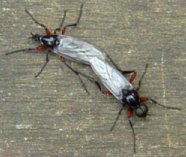 meadow pipits and skylarks which I studied for a PhD), although I also realised they were not a species I had seen before. I rescued them from the pond and examined them more closely (bibionids are generally very sluggish flies and you can handle them easily). They were a coupled male and female and both had remarkably red femora (that's the top leg segment). With the help of an old key which I have to the group, I was able to identify them quite easily as
Bibio pomonae
. A quick search on the web revealed that these are also known as 'heather flies' due to their association with upland areas.
Identifying an insect like this that I have never seen before is one of the most satisfying aspects of wildlife gardening for me. It's nice to see a handsome animal of any kind, even if you can't identify it, but to be able to put a name to it gives me a real buzz.