After a bringing us a good many showers, April has finally been showing its other face over the past week or so with some very fine spring weather.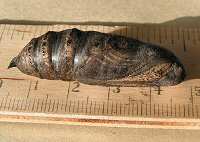 Last Wednesday I found this large chrysalis on the path outside my house, adjacent to one of the flower borders. I've no idea how it got there or exactly what it is, but it looks large enough to be a very big moth. I've put it into an old fish tank with some newspaper. Hopefully it is undamaged and will emerge to solve the mystery!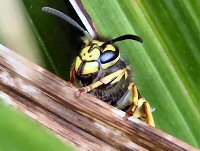 Out on the local moors the animals have been returning in force. Morning walks have yielded swallows (
Hirundo rustica
), wheatears (
Oenanthe oenanthe
), nest-building stonechats (
Saxicola torquata
), red grouse (
Lagopus lagopus
) & curlew (
Numenius arquata
) calling, lapwings (
Vanellus vanellus
) tumbling and grasshopper warbler (
Locustella naevia
) singing. Back in the garden, the warm weather brought out the first butterflies, orange tip (
Anthocharis cardamines
) and peacock (
Inachis io
), as well as the first queen wasps (those that I could identify were
Vespula vulgaris
). I've now seen queens of four species of bumble bee searching for nest sites in the garden (white-tailed [
Bombus lucorum
], buff-tailed [
B. terrestris
], red-tailed [
B. lapidarius
] & common carder bee [
B. pascuorum
]) and, possibly, a field cuckoo bee (
B. campestris
) too. Though most bees appear to be queens in search of nest sites, I'm now beginning to see more pollen collecting too.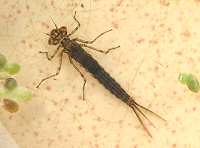 Life in the pond is more in evidence than ever. The water is thick with
Daphnia
this year - much more so than last year. This may be part of the natural process of maturation of the pond, but I have a hunch (no more than that) that it might have something to do with the
brushwood liner screening
that I put around the sides of the pond last year. The tadpoles are growing at an astonishing rate and last week I saw the early hatchers furiously eating away at a newer batch of, as yet, un-hatched spawn. I have a fresh attack of blanket weed in the pond which, so far, I've been regularly 'cropping' it by hand; but my
barley straw
is due for renewing - I must do that sooner rather than later. Whilst cleaning out the blanket weed I came across lots of invertebrates including several damselfly nymphs, but also many others which I could only guess at: exciting times indeed!