I've beefed up the 'security' around my mammal platform to ensure that visitors are safe from cats.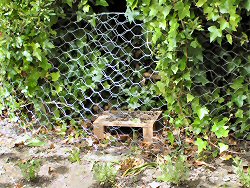 As reported in the diary entry for
May 9th
, I marked up a great early success with my mammal feeding platform, seeing both wood mouse (
Apodemus sylvaticus
) and bank vole (
Clethrionomys glareolus
) in broad daylight just days after putting the table in place. However, since then I've not seen a single mammal on it. What I have noticed though is that both my cat and a neighbouring cat have been paying particular attention to the area of the feeding platform. Although the table itself was covered by a dome of chicken wire, I realised that I should really protect the whole area around the platform by preventing access by cats. To this end, I have replaced the dome with a larger 'fence' which encompasses the table itself and an area incorporating the base of an ivy-covered tree which is where the small mammals approached the table from. I hope that this cat exclusion zone will encourage mammals to use the table again in safety.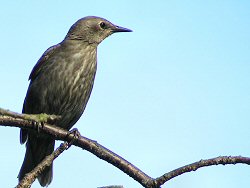 As is usual at this time of year, there is plenty going on in the garden. Both broods of blue tits (
Parus caeruleus
) and the starlings (
Sturnus vulgaris
) mentioned in
last weeks diary
entry are all still progressing well. The fledged birds of other starling broods are voraciously feeding in the garden. They are particularly attracted by the 'bird cake' (fat and seeds) served up in coconut shells.
A week or so ago I noticed, in the pond, tiny water boatmen (probably
Notonecta glauca
), also known as backswimmers. These insects are members of the order known as true bugs - the Hemiptera. The development of bugs is characterised by a succession of larval stages which are like minature copies of the adults. This contrasts to animals like beetles, butterflies and dragonflies where the young look totally different from the adults. Already, over the space of a week or so, I have noticed the change in size as these insects grow - they are currently around 4mm long. Eventually they should reach 16mm, or so, in length.