| | |
| --- | --- |
| Diary: April 2003 | |
More heron deterrents
Sunday 27th April 2003 in the garden diary...

A friend brought me some ingenious heron deterrents as a birthday present. She acquired two blue-glazed ceramic ornaments which float on the pond surface - they are shaped a bit like round loaves of bread.
| | | |
| --- | --- | --- |
| | | |
| | More info... | |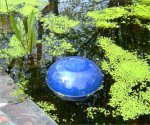 The idea is that the heron spots them and, thinking that one would be an ideal perch from which to catch its next meal, attempts to land on it: its weight submerges the float, giving it a fright in the process! My only doubt is that if they are moving about, as they do in even a light breeze, then perhaps the heron would not want to land on them. In any case, they certainly make interesting and unusual pond ornaments.
Evidence of caddis flies and damselflies
Sunday 27th April 2003 in the garden diary...

I found what can only be a caddis fly larvae case floating on the surface of the pond today. It was made of small stones and the seeds of yellow flag (Iris pseudacorus). Due to the fact that it was floating, I imagine that it was empty - but I'm not sure. It definitely must have come from the old pond (when we transferred most of the water and a great deal of the mud) since I haven't yet had any flowering yellow flag near the new pond. Still I had no idea that I had caddis flies in the old pond.

I was delighted to see a good number of damselfly larvae in the new pond today. They seem most numerous on the soil in the emergent plant containers in the shallow end of the pond. I saw a number of damselflies and dragonflies around the pond at the end of last summer (when these containers were already in place) and I believe that these insects may have come from eggs laid then.
Ivy and cuckoo flower propagation
Sunday 27th April 2003 out and about...

Following the advice from one of the nursery staff at the National Wildflower Centre, today I have attempted to propagate some cuckoo flower (Cardamine pratense) by potting up some leaf cuttings. This flower grows abundantly in the meadows around here and it was easy for me to obtain some leaves without damaging the plants. I was looking for the largest, most succulent, basal leaves. I've potted up a number with a little rooting hormone to help them on their way.

At the same time I also took a number of softwood cuttings from a local Ivy (Hedera helix) and treated them in the same way. I hope to plant these out in various positions in the garden if they are successful.

Back to home page

Do you live in Merseyside? Interested in its wildlife?