From the point of view of encouraging wildlife, it's best not to overdo the tidying up; it's all a question of getting the balance right.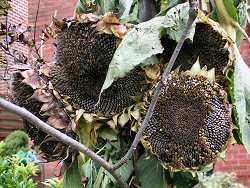 Traditionally many gardeners undertake a big tidying up exercise in the autumn to get the garden looking 'right' for winter. This often involves cutting back herbaceous perennials and clearing away the remains of the annuals. But for the wildlife, a tidy winter garden does not offer the same kind of survival opportunities as one where the main tidy up is left until spring. That's because the remains of many of the plants that are thrown away can provide food and shelter for animals through the autumn and into the winter.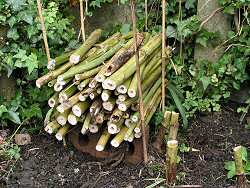 The faded heads of plants like teasel (
Dipsacus fullonum
) and sunflowers (
Helianthus sp.
) offer seeds for tits, finches and small mammals while their hollow stems (and other nooks and crannies around the plant) provide myriad opportunities for hibernating (or sheltering) invertebrates. Some architecturally striking plants (like teasel) can easily be left in place if they are rigid enough to maintain their shape. Where plants fall over or are otherwise too untidy to be left as they are, you can consider salvaging as much useful material as possible before consigning the rest to the compost heap. That's what I've just done with my sunflowers: the heads I strung from a tree so that the seeds will be available to the birds; and most of the stems I cut into lengths of about 40cm and stacked between some retaining bamboo canes. The garden looks tidier, but hopefully I have retained much of value to the wildlife.