Several times recently I've been lucky enough to see roe deer whilst out walking. With these deer on the increase, they are likely to become regular garden visitors in some rural locations.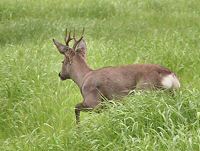 In fact I've seen roe deer (
Capreolus capreolus
) locally on three separate occasions so far this year. Although I've known of their presence before (reported sightings by friends), this is the first year I've seen them myself. On all three occasions, I've seen the deer in broad daylight in widely scattered localities around Horwich, Lancashire. They have always been very nervous - running as soon as they catch sight of me (which has always been before I have seen them!), but this morning the single buck I saw stayed around long enough for me to get this picture.
Roe deer are native to Britain and were abundant in the Middle Ages, but then almost died out. Something over 100 years ago they were reintroduced to many parts of the country and have since staged a comeback. Over recent years they have done very well indeed and sightings up and down the country are on the increase. For many people who's gardens back on to open countryside, the roe deer is becoming an increasingly likely addition to the garden fauna.